Did you, or your children, or maybe your grandchildren have one of these?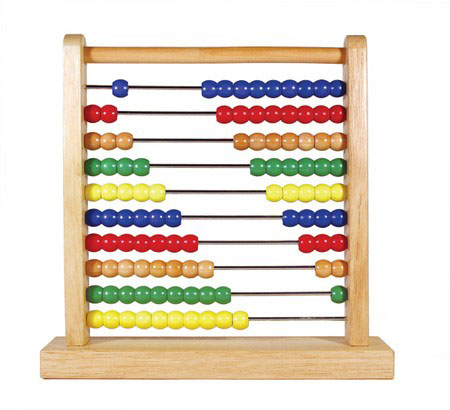 My own grandsons have one – it is,of course, a child's abacus. Coloured 'beads' on horizontal rods within a frame. Toddlers love pushing the beads back and forth and have no idea what they are really for.
Abacuses (abacii??) are an ancient form of counting device; prior to their invention stones or beans on a flat surface had been used in many ancient societies to tally numbers – of men, cattle, armaments, money owed etc.they were probably invented in China (wasn't everything back in the day!) approximately 600BC.  By the end of the Eastern Han Dynasty (25-220AD) mathematician Xu Yue had initiated  the first ever concept of "abacus calculation" in his book 'Memoir on Mathematical Art'.
Hmm… let me digress for a moment to tell you of a thought I had a few moments ago  – prostitutes are often said to be the oldest profession in the world, but I'd bet accountants run them a close second – there has ever been a desire by those in power to quantify money and goods for tax purposes (including the money prostitutes would make by plying their trade), and so the profession of accountancy was born – and accountants need calculators.  Just a thought.
What the Chinese did with this ancient and simple computing method was to put it all onto a flat plate which could be moved; and the Ancient Romans refined it to framework which could be carried from place to place.
This in turn went back down the Silk Roads where the Chinese changed it slightly yet again.
The concept of the abacus  – or sùanpán 算盤 (calculating plate) as the Chinese call it – went from the east through Egypt, Ancient Greece and then to Rome, taking in Russia, Persia etc. en route.  In fact it was the Ancient Greeks who gave the device the name abax or abakon which became 'abacus' as westerners call it today. They were widely used across Europe from the 12th century onward.
In recent times three types of abacus have been in common use –  Chinese, Japanese  and Russian.  The Chinese abacus is widely used throughout East Asia (apart from Japan and Korea which used the Japanese version called Soroban).
Staying in Singapore 30 years ago, I recall being gobsmacked by how fast a local shopkeeper could – using an abacus – add up the bill for my purchases.  I even bought an abacus which came with a booklet on how to use it and took it back to the UK. Alas I never mastered the system.  The crucial fact I failed to grasp was that an abacus does not solve the math problem, the human being using it does, what the abacus does is keep a tally of all the numbers as you work it through.
Since the invention of computers and electronic calculators there have been contests held in HK, China and Japan to see which is fastest at helping someone to solve a maths problem, and frequently the abacus beat the other devices.  However the honest answer is that it depends on the skill and dexterity of the abacus user.  Even novices can use a calculator easily, but to be fast on an abacus requires practice and lots of experience.
A Chinese friend of mine who is 30  told me that when she was in primary school and was 10 years old, they were all taught to use an abacus. These days, she tells me, few children in Chinese schools are taught to use it – the electric calculator has won the battle!
The reason for this post about 'The Abacus' is because on Sunday afternoon I took my DH to an area of Beijing called Gaobeidian.
Once a village to the east of the city it has now been subsumed into greater Beijing. Gaobeidian was always a village of furniture makers, and what little of it remains – two or three streets – still is.  There are lots of shops, workshops etc where you can find old and new Chinese furniture, and craftsmen who will copy a wooden screen, chair, cabinet etc.    I have spent several happy hours fossiking about in Gaobeidian.  On Sunday we spent two hours browsing around one of the bigger shops 'Lily's Antiques' or  华伦古典家具 as it is called in Chinese.  Measuring tape in hand we were on the hunt for a console cupboard for our hall area.  After we found the perfect piece, we wandered round and found ourselves in a huge room full of shelves of ceramics; tucked away at the back the DH spotted something unusual  – a circular abacus!
It was dusty and dirty but when we hauled it out we discovered a small metal label on the outer frame. It had been made in 1935.  Circular abacuses were in use in the Song Dynasty  (circa 960-1279 AD) and then enjoyed a revival in the late 1920s/30s.  It was going for a song (pun) and I didn't even bargain, I knew we had to have it.  Now it is hanging on the wall in our apartment, looking fantastic.  Chinese friends who have seen it are astounded, they have never seen a circular abacus before.
When I have finally mastered the complexities of reading, writing and speaking Mandarin, perhaps I will find someone who can teach me to use an abacus!